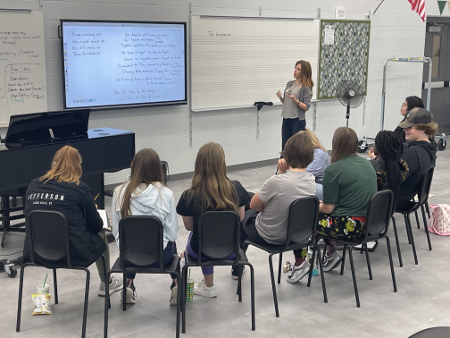 During this 4 hour in-person clinic, Anita Cracauer of ShowChoirStock.com will lead your students in writing an original song for your show choir. Before the clinic is held, you and your students will decide on a song idea based on the theme of your show. You can choose a few songs which emulate the musical style/tempo if you want to steer the song in a particular direction. At the clinic, we will learn about song form, perspective, and other lyric-writing techniques, brainstorm together to create a song lyric, learn about what makes a memorable melody, create a melodic line for the song lyric, learn about how to harmonize a melody, and create a harmonic foundation for the song. These decisions will be made live, with the students themselves trying out each option provided and deciding in real time which they prefer—and ideally creating ideas of their own! After the clinic ends, Anita will complete the song and arrange it for your choir using the instrumentation you provide. It's yours to use in your show, with all performance, streaming and sync rights, and keep in your library forever! Best of all, if you wish, your song can be published by ShowChoirStock.com and your choir program will receive half of the proceeds from the sale of the song as long as it is published.
"As we were working to open the new high school in Sioux Falls last year, one of the first things students asked me about was, "what will OUR song be?" ... A large portion of our choir students came with me from Roosevelt, where there were many traditions already in place. One of those was a song that show choirs sang before each performance and the other was a senior/alumni song concert choir members sang each spring at the final concert. ... I spent hours listening to song options that could be used year after year for these occasions. There were many out there, and we tried some of them out with the students, but nothing felt quite right.
So, I decided to reach out to Anita about writing us a custom song. I had worked with Anita on a couple other original songs for show choir shows and thought this could be an option to have something written. Before Anita arrived, she had the students do a little assignment to get a feel for where the students were coming from, what they liked, what they wanted to see from this song and more. This way, when she arrived, Anita was prepared with some ideas from their input and knew how to lead the group to writing their song.
Anita taught the students about song forms using several listening examples. She explained the many common pop song forms and asked for suggestions on which one we should use. She then worked more on the poetry/lyric writing. She had students using rhyming dictionaries and thesauruses to help get the ideas they wanted to share into song lyrics that fit together. Anita then moved to melodic line and explained strong beats/word stress. She talked through options of melody lines and had the students vote on their favorite options. Some even gave suggestions for other melody lines. The students had a wonderful time and were able to see a good start of a melody line for a chorus, verse, and bridge of the song before we left that afternoon.
A week or so later, Anita sent me the first draft of the full song with added harmonies and much more detail than what we ended with the day of the workshop. The students sang through it and were able to make a list of comments/suggestions to help improve it further. We sent those revisions back to Anita and she sent back a second draft a few days later. We were able to then teach the song to our singers just as we were wrapping up our show choir season and honored our seniors by performing it for our parents and families at our final home show in March. The students really took ownership of the song and are excited to sing it again next year."
—John Parezo, Jefferson High School, Sioux Falls, SD